TV Presenter becomes Patron for new community garden in Whitechapel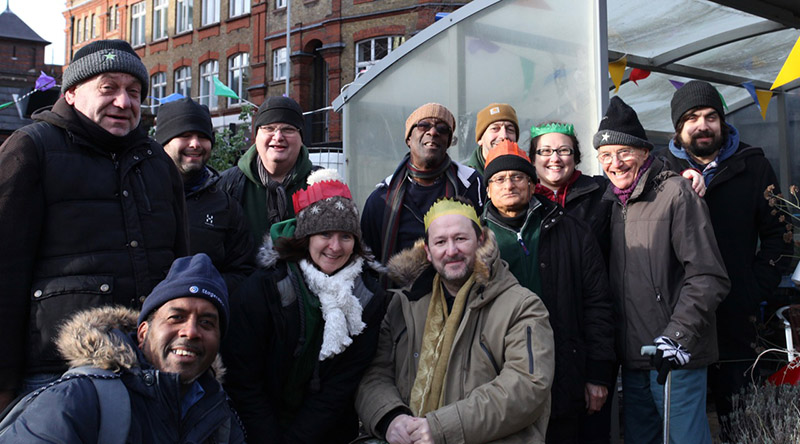 PRESS RELEASE 11.1.18
BBC "Gardener's World" TV presenter and garden designer Mark Lane will be championing Core Landscapes community garden and plant nursery following its recent relocation to the heart of Whitechapel E1.
Core Landscapes is an award-winning mental health project that aims to improve people's mental and physical wellbeing through horticulture. It opens up previously locked up sites to create green havens for individuals and the wider local community. The project moved to its current site in Whitechapel last summer from its previous site in Canning Town.
Mark Lane accepted an invitation to become Core Landscapes first ever patron after visiting the project before Christmas and was impressed with what he saw: From a vacant plot of land full of rubble and weeds a garden now grows with an orchard, pond, plant nursery and food growing area, all grown in moveable containers – from Hornbeam trees to salad leaves.
"I am absolutely delighted to become their Patron, and I know there is much more we can all do to improve our cities, reduce pollutants through the use of green spaces, lower the 'heat island' effect, and just as important to create a community, a hub where anyone can come along, get their hands in the soil, or hammer in some nails, make new friends and be part of a truly positive and remarkable cause." Mark Lane TV presenter and garden designer
The project is looked after by committed teams of volunteers and people referred to the project by health and social care clinicians: People come to learn about horticulture, meet others and give something back to the local community and in doing so improve their own mental and physical health.
'We are delighted and excited to have Mark as our new patron and look forward to sharing our passion of how gardens and gardening can change peoples lives for the better."
Nemone Mercer Core Landscapes manager
Mark Lane is no stranger to knowing how horticulture can be impact positively on individuals' lives. He retrained as a garden designer after a life changing car accident and hasn't looked back. Mark was sought after to join the team at BBC Gardeners World TV show with Monty Don. His involvement often highlights the need for, and impact of community green spaces and their role in recovery and rehabilitation for many people from all walks of life.
Core Landscapes dedicated staff deliver workshops and facilitate working sessions throughout the year. The site is open to the general public on Tuesdays and Thursdays and is popular with hospital visitors, staff and patients as The Royal London hospital is right next-door. Barts is fully behind the project along with Tower Hamlets public health and the Whitechapel Vision Delivery Team.
Core Landscapes open 10.00am – 4pm Tuesdays and Thursdays

Stepney Way Whitechapel E1

For further information about Core Landscapes, please contact: Nemone Mercer