Core Landscapes
Community Garden and Plant Nursery
A Core Arts project
Creating a green haven for the community. By the Community
Core Landscapes transforms vacant land in deprived urban areas into hubs for community engagement through horticulture, design, workshops, training and events – improving physical health, mental health, wellbeing and community cohesion.
Core Landscapes is a Core Arts project: a not-for-profit Social Business that promotes positive mental health and wellbeing through creative learning. Core Arts provides quality education, training, employment and social enterprise initiatives that enable people who experience mental health issues to overcome barriers, fulfil their potential and participate fully in their community.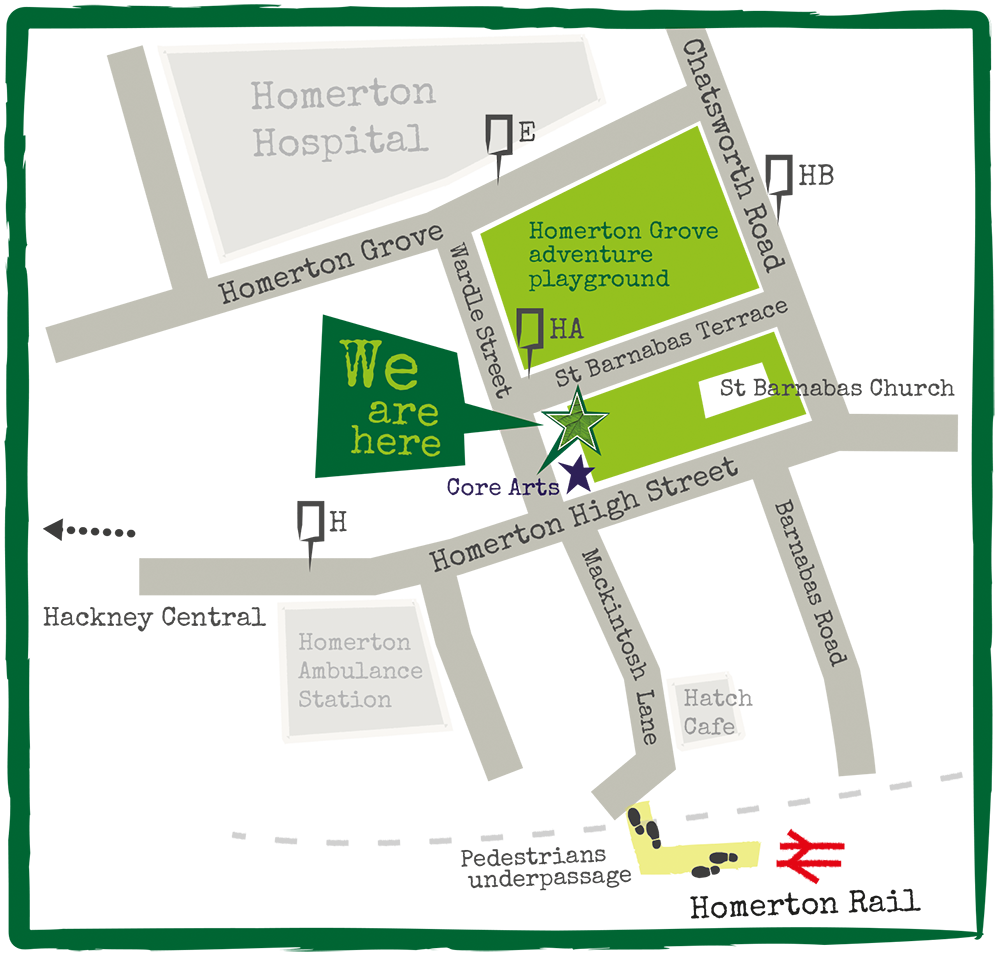 New Hub Site
Homerton E9
Core Landscapes' now has a new hub site roof garden at Core Arts' in Homerton E9. The roof garden site includes a teaching and workshop space, micro plant nursery, greenhouse, water-harvesting and demonstration roof top garden plants that can withstand heat, exposure and drought. This will be open to the public by appointment later in the season. Core Landscapes will also be developing new meanwhile sites and supporting others later in the year and also overhauling Core Arts' existing garden on St Barnabas Terrace E9.
A study has revealed the importance of cities for pollinators and highlights how to attract bees and other insects to urban areas […]

Mental health charity Core Arts, which runs a community roof garden in Homerton where it hosts courses for budding green thumbs, has moved online amid the coronavirus lockdown […]
Two hundred volunteers grafted for five months to transform a bland Homerton roof into a community rooftop garden – and the results are stunning.
London in Bloom is about celebrating the passion Londoners have for greening our Capital city, recognising the tireless work of volunteers who support and care for many of our parks, squares, and green spaces both […]
The Green Flag Award scheme recognises and rewards well managed parks and green spaces, setting the benchmark standard for the management of recreational outdoor spaces across the United Kingdom and around the world […]
Core Landscapes featured in London Landscapes Summer 2020 issue
The Core Landscapes team transforms temporary sites into green havens to promote positive mental health and physical health and community cohesion. […]
Helping London adapt to climate change and promoting walking and cycling by converting grey streets into greener spaces: the Wardle Street Project, led by Core Landscapes, will green the route between Homerton High Street and Homerton Hospital in Hackney, with a community orchard, a new meadow and a green wall […]
OUTSTANDING "It's Your Neighbourhood Award" 2019

BEST NATURE PROJECT "Social Prescribing Award" – Defra finalist 2019

OVERALL WINNER "Our Community Award" – London in Bloom Award 2018

GOLD "London in Bloom" 2018

OUTSTANDING "It's Your Neighbourhood Award" 2018

BEST CONTRIBUTION TO HEALTH AND WELLBEING Groundwork Award finalist 2017

Finalist in the Groundwork Community Awards 'Best Community Contribution to Health and Wellbeing' 2017

'It's Your Neighbourhood Award' Thriving 2016

'London in Bloom' The Greener Streets Awards 2016

'It's Your Neighbourhood Award' Thriving 2015

Core Arts are Shortlisted for the City of London's 'Sustainable City Awards: Greening the Third Sector' 2013 / 14

Core Arts win The Mayor of Hackney's 'Best Sustainable Business Award' 2014

City Bridge Trust 'Growing Localities Award' 2013 Winner: reclaiming and developing wasteland category

'Capital Growth' 2nd Prize for Best Food Growing 2012

'London in Bloom' Certificate of Excellence 2012

Hackney in Bloom' Certificate of Excellence and a Green Penant Award for Best Community Garden, 2012 – relating to Core Arts Garden in Hackney

"I have poor mental health normally so this really impacted on me and gave me an anchor, a sense of belonging and of the opportunities to reach out and find work or leisure possibilities."
"I've learnt a lot about sowing, time length, watering and soil depth etc. I've seen that there are so many people who want a bit of green and cleaner cheaper healthier living despite being constrained by low incomes."