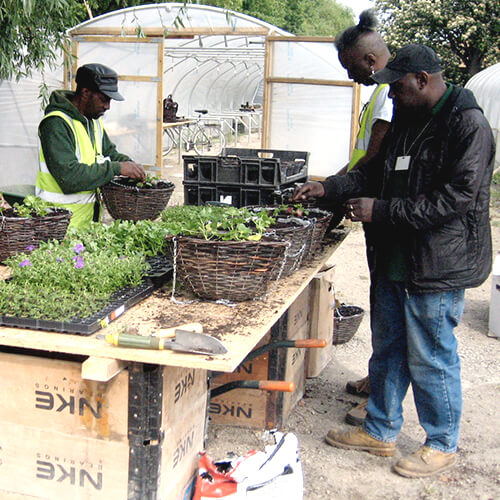 Volunteer sessions take place on site – come rain or shine!.
Tuesdays 10.00am-2.00pm
Thursdays 10.00am-2.00pm
Core Landscapes welcomes and depends on volunteer help with the smooth running of the project.
Valuing volunteers' time, skills and ideas are an inherent part of Core Landscapes.
We aim to listen to our volunteers' reasons for joining us and wherever possible, cater the activity to the particular areas of interest of the volunteer. Past volunteers have had responsibility of particular projects within Core Landscapes, and gained personal development from this.
You do not need to be a gardener to volunteer we us – we can teach you how to be one!
'I was really glad that came to Core Landscapes today as they have provided me with an enjoying yet challenging volunteering opportunity. I think that the gardens are an amazingly beautiful space and idea and the staff I worked with today were friendly, fun and taught me some fab new skills. I think that it would be a great chance for anyone to experience volunteering here'.
Some Benefits of  Volunteering with us
Learning a range of new skills
Meeting interesting people
Expanding your CV
Increasing physical and emotional health
Having a positive impact on your community
Increasing self-esteem and confidence
Making a difference
Being valued
Satisfaction
Opportunities in
Plant Propagation
Plant identification
Garden design
Construction
Marketing
Plant maintenance
Landscaping
We also value volunteer input in the areas of promotion, and event planning.
Volunteer Placements
Currently we can accommodate a limited number of volunteer placements from other community-based organisations for a defined length of time. The person volunteering will be working as part of a small team of other volunteers. Though staff are on hand we regrettably do not have the capacity for one-to-one support throughout the session. If the volunteer requires this level of support a support worker from the organisation will be required to attend the session with them. We aim to work closely with partner organisation for the best outcome for the person volunteering.