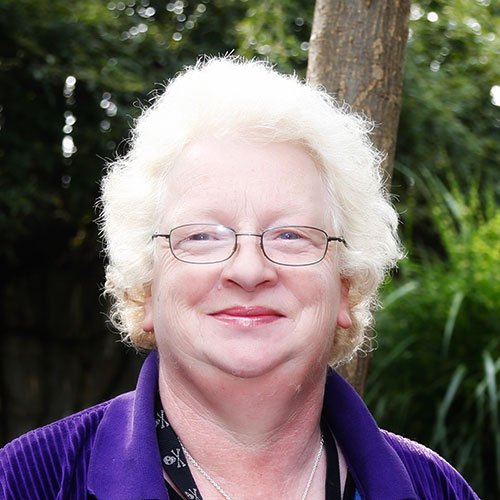 About the artist
"I'm mad about monkeys and cats," says Linda Noble, "All animals, really.  And angels." With her new art book Party Animals, Noble mixes acrylic, watercolour, collage and text to infuse her beloved creatures with a unique brand of whimsical humour.
"I never liked making art as a youngster, and that was only because my art teacher wasn't very nice," she says.  "But I started making my own art in Day Hospital, and my teacher was nice this time, and that made all the difference.  I found art therapeutic.  I found I could express myself through the animals I drew instead of focusing on my illness."
For Noble, her father's gift of Lewis Carroll's Alice In Wonderland had a profound effect on her work.  The playful spirit of Alice reverberates throughout Party Animals; in her hands, characters often emerge from the inanimate: the petals of fuchsia flowers become ballerinas, and turnips fall in love.  She also applies her skills as a stand up comedian to the images: the turnips embrace beneath the title "Swedehearts"; Kitty Winehouse promotes Back to the Flap (and with a proud smile Linda notes, "My jokes are terrible!").
In addition to Party Animals, Noble has modelled as a kooky Marilyn Monroe for the Encounters book published by 4 Corners, and performed comedy at St. Luke's Old Street, Chat's Palace, Katz N Dogz, and Club Core.  With her art having exhibited at the Homerton Hospital Psychiatric Ward, ING Bank/London Wall, Prince's Drawing School, and the Museum of Childhood, she notes a prestigious first art sale, with Suggs from the rock band Madness as the buyer.  "And I got a snog from him, too!"
Linda Noble and "Party Animals"
"My personal story is difficult from the start. I was born prematurely, eleven weeks early.  I weighed two pounds/two ounces and then went down to one pound/eleven ounces.  Between that and my illness, I'm lucky to be here at all.  And I was told from an early age that I'd never accomplish much.  For me, publishing Party Animals proves that wrong."