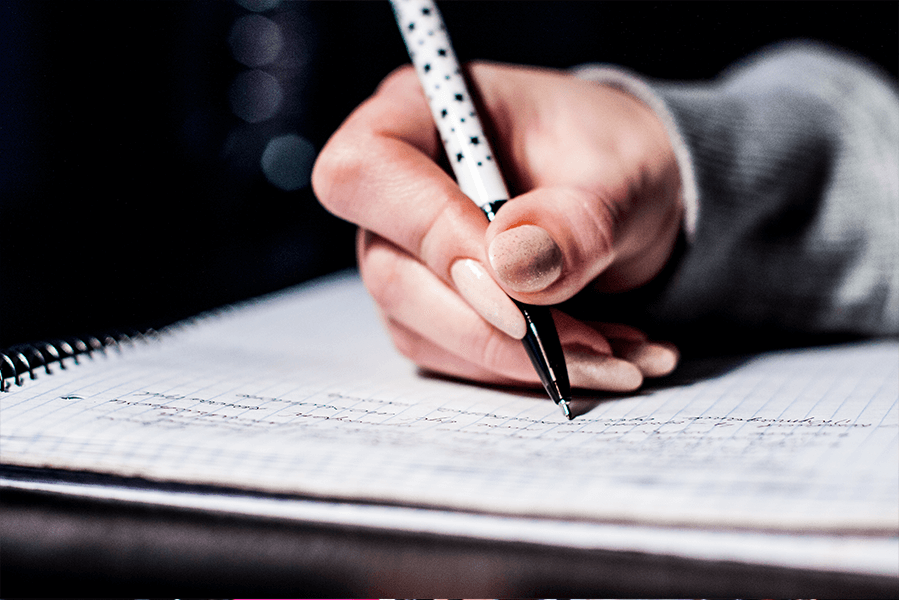 Creative Writing for Performance
> Location: Pink Room
> Skill Level: All abilities
> 12 Week Course starting Friday 26th of April 2019 and ending Friday 26th July 2019
This course is designed to give you an opportunity to develop your creative writing skills with a particular focus on writing for performance. We will start with classical approaches to writing before moving on to practices such as writing for communities, experimental and solo performance. You will be invited to read and write pieces of work in a range of styles and genres and encouraged to reflect and think critically about your work in a supportive environment. There will be also chances to practice performing your work, either individually or with others.
Perhaps you are a poet looking to push yourself into trying something new with your work, or a budding script writer looking for a place to hone your craft? During the course you will develop your writing skills and confidence, drawing inspiration from your own life and the world around you as well as the work of established writers. You will explore important skills such as how to set a scene, developing a character and writing dialogue as well as creating a mood and stage imagery.
"I can take any empty space and call it a bare stage. A man walks across an empty space whilst someone else is watching him, and this is all that is needed for an act of theatre to be engaged." – Peter Brook
Event Hours
(1)
Friday

02:00 pm – 03:30 pm

Tutor: James Byrne
(Pink Room)
> Wellbeing Network Course
> Tutor: Rebecca Cresswell
> Skill Level: All Abilities
Learn how to work with your hands to create sculptures, ornaments, tiles, plates and bowls through different forms of clay. Develop your pottery and ceramics skills from design, glazing and firing through to exhibiting.
Learn basic techniques in preparing clay, and develop your skills in coiling, pinching, slabbing, and wedging. Make impressions and textures into clay, exploring 2D imagery. Develop your 2D images into 3D workable designs.
You will use Buff Stoneware and Terracotta Earthenware clay, and learn how to apply coloured stains to decorate raw ware. Try biscuit firing and understand how glazes behave on fired ware.
Stimulate your ideas through gallery and museum visits, artbooks and online research, engage in group discussion and share your artistic knowledge.
You will understand the nature of clay, glazing and the concept of how ceramics function from the raw stage to the fired finished product. You will produce your own ceramic artwork independently. You will have the opportunity to exhibit and learning to price work for sale.
Event Hours
(1)
Thursday

02:00 pm – 05:00 pm

Tutor: Rebecca Cresswell
(Art Studio 2)
Core Sport offers different styles of yoga and relaxation classes to suit different needs. All classes help to improve flexibility, posture and create a greater sense of relaxation and stress relief. In addition to these benefits, regular participation leads to relief from pain, better range of motion around the joints and enhanced muscular co-ordination.
These classes are ideal for those seeking a more gentle approach to exercise that not only has physical benefits, but also supports mental well-being; in particular for those suffering from depression, anxiety and insomnia.
Event Hours
(1)
Saturday

12:00 pm – 01:00 pm

(Core Arts Hall)
> Skill Level: All abilities
> For people with lived experience of mental ill health
> For people who prefer to learn in an informal environment
> For people with gardening experience who can support others in their learning
Green Care gardening sessions are for people with all levels of gardening know-how from complete beginners to experienced gardeners. People learn new skills, or share existing ones, with experienced staff and volunteers in a friendly, informal and beautiful environment.
A wide range of gardening skills are gained by helping to care for the garden at Core Landscapes and keep the plant nursery well stocked. Gardening has been proved time and time again to boost mental wellbeing and the skills learnt also help to promote confidence and self-esteem. The garden is also a safe space to meet new people and new plants. People can work in pairs, small groups or individually as they prefer.
Core Landscapes also runs Horticultural Workshops for those who prefer to learn in a structured way with clear aims and objectives.
Core Landscapes has a medicinal plants area, food growing plots, wildlife pond, container orchard, plant nursery, greenhouse, poly-tunnel, construction area, drought tolerant planting areas and acid loving plant display. Everything is creatively grown in containers, as Core Landscapes needs to move from site to site when the land it is housed on gets developed. It moved to it's current site in Whitechapel from Canning Town in 2017.
People can learn about:
Plant propagation (making new plants from existing ones)
Plant identification
What plants to grow where and why
Food to grow all year round
Container growing
Herb growing
Organic ways to control pests and diseases
Soil management and compost systems
Sessions are held on Thursdays from 11 am to 1 pm throughout the year (whatever the weather!)
For more information or to register interest please email Nemone Mercer or call her on 07585 770 868.
Please note these sessions are not suitable for people requiring one to one support.
Green Care sessions require a referral from your GP or other health care professional.
Event Hours
(1)
Thursday

11:00 am – 01:00 pm

Green Care Gardening Sessions at Core Landscapes
(Whitechapel Garden and Nursery)
> Skill Level: All welcome
Develop your Creative Computing skills and become more proficient using a Mac. Learn how to use software including Photoshop and iMovie to edit your creative visual, sound, video and written work. You can manipulate work digitally to create new visual, sound or animated work.
Upload your artwork and create your own digital portfolio to share online. Upload your music to sites, which offer a platform to share your music and invite valuable feedback.
Upload your creative writing in a book format to self publish online and in print.
Learn how to design and create your own blog and website, or publish online. Design your own marketing materials including press designing CD and DVD covers, flyers, postcards and posters also learn to write your online biographies and press releases. Represent and promote yourself through online platforms and creative networks. Enhance your creative recognition through a well thought out web presence as an artist.
Event Hours
(1)
Wednesday

10:00 am – 02:00 pm

(ICT Suite)
> Skill Level: All abilities
> Tutor: Collin Chace
Event Hours
(1)
Thursday

04:00 pm – 05:00 pm

Tutor: Collin Chase
(ICT Suite)
> Tutor: Sam Wilkinson
> Skill Level: All abilities
Turn your words and poetry into lyrics and learn how to construct a song in this focused songwriting group.
Event Hours
(1)
Friday

12:30 pm – 01:30 pm

Tutor: Sam Wilkinson
(Studio 1)
> Skill level: Beginners & Advanced
Core Sport offers table tennis and badminton as part our sport provision. These sports are a great way to improve fitness, hand-eye co-ordination and to help find future playing partners. Benefits include using up excess energy, improved concentration and focus. Whether you like a friendly rally or a bit of competition, these groups offer it all.
All sessions are perfect for beginners and the more advanced.
Event Hours
(1)
Tuesday

02:30 pm – 06:30 pm

(Core Arts Hall)
[separator style_type="single|dotted" top_margin="40″ bottom_margin="20″ sep_color="#5abba5″ border_size="2px" icon="" icon_circle="" icon_circle_color="" width="" alignment="center" class="" id=""]
> Tutor: Romain Malan
> Skill Level: All levels
All are welcomed, free and not part of your hours or day
Event Hours
(1)
Friday

03:30 pm – 04:45 pm

Tutor: Romain Malan
(Hall)
> Tutor: Lorraine Haywood
> Skill Level: All levels
Enter in a fully equipped, ready to record studio. Explore the instrument that is your singing voice and strengthen your vocal chords through enjoyable studio sessions exploring popular songs. Musicians will be on hand to provide the music.
Event Hours
(1)
Thursday

02:00 pm – 05:00 pm

Tutor: Lorraine Haywood
(Studio 1)